Childrenshome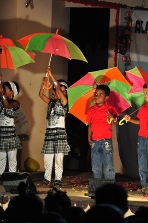 SKGA holds 8 childrenshomes/cottages distributed in the three compounds situated in different locations near eachother. All together they house more than 150 children. Children are cared for in fully self-contained independent cottages and cared for by a dedicated house mother, and vegetarian food cooked 3 times a day by a cook in every cottage. The age of the children in each cottage varies between 5-20years, in this way the older children will be taking care of the younger children, also taking care of chores to assist the housemother and cook. The housemother and the children in the cottages support one another with doing their homework. The philosophy of the independent cottages, is to create a stimulating invironment simular to a family, that gives the children a caring, safe, healthy, stabile childhood. When the child is ready the boys will move to the boyshome in Alamelupuram, maintaining the close bond with their former cottages.
Sitharamapuram is the biggest of the three compounds. 90 children stay in this compound, in 5 different cottages; Vester Nebel Cottage (1980), Robert Bech Cottage (1982), Bodil & Helge Pedersen Cottage (1983), Anna & P. Krebs Lange Cottage (1984), Action Children Aid (ACA) Cottage (2002). Donated through Action Childrens Aid, Denmark.
Alamelupuram houses one cottage, the Roaerker Foundation Cottage constructed in 1980. It is used only as a boyshome, for boys with an age between 5-20years. 30 boys stay in the compound. Donated through Action Childrens Aid, Denmark.
Paramarthalingapuram, in the Kanyakumari district, houses two cottages, the Danida Cottage (for girls) which was constructed in 1983, and the Boys Cottage which was constructed in 1998. This compound is also known as "New Land", and houses 30 children. Donated by Danida, Denmark.
In each of the three compounds there are small argicultar activies that teach the children valueable lessons about how to cultivate and harvest foods. Each compound has a playground to stimulate the childrens pshysical development. A stage has been built in the Sitharamapuram compound, used for school performances and celebrations where the children perform Karate, Yoga, Music, Dancing and Drama.
In addition three houses have been constructed by SKGA through donattions, they are; F.B. Berry House (reg. office of SKGA), Vera House(for women i need), at Kanyakumari, Roger Lacaze House (housing girls during their further education) in Tirunelveli.

Sri Kanyakumari Gurukula Ashram